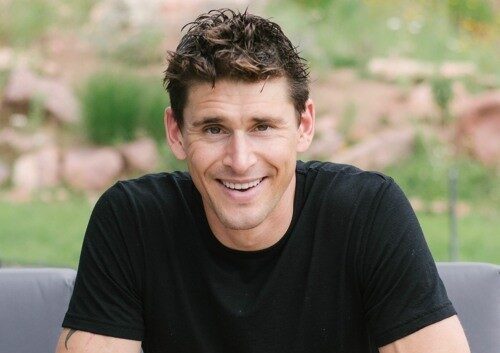 Ben Greenfield is a health consultant, speaker, and New York Times bestselling author of a wide variety of books including the widely popular titles Beyond Training, Boundless, Fit Soul, Spiritual Disciplines Journal, the Boundless Cookbook and Endure. A former collegiate tennis, water polo and volleyball player, bodybuilder, 13-time Ironman triathlete and professional obstacle course racer, Ben has been voted by the NSCA as America's top Personal Trainer and by Greatist as one of the top 100 Most Influential People In Health And Fitness.
A frequent contributor to health and wellness publications and websites and a highly sought-after speaker, Ben's understanding of functional exercise, nutrition, and the delicate balance between performance and health has helped thousands of people around the world achieve their goals and improve their quality of life–from high-level CEOs to soccer moms to professional athletes and beyond. Ben is an advisor, investor, and board member of multiple corporations in the health and fitness industry, and is also the co-founder of the nutritional supplements company KION, a company that combines time-honored superfoods with modern science to allow human beings to achieve peak performance, defy aging, and live an adventurous, fulfilling, joyful and limitless life.
Ben hosts the highly popular fitness, nutrition, and wellness website BenGreenfieldLife.com, a site with over a million monthly visitors, featuring articles, podcasts, and product reviews from him. In addition to multiple daytime and reality TV show competitions, Ben has also appeared in and been a contributor to Forbes, Men's Health, Huffington Post, Fox News, Triathlete magazine, LAVA magazine, Endurance Planet, and has been featured in WebMD, Prevention magazine, Shape magazine, Men's Health, Men's Fitness, Women's Running magazine, Inside Triathlon, NBC, Fox, Entheos Academy, CreativeLIVE, MindBodyGreen, Udemy, Veria Live TV, CBS Sports, MindValley University, Outside Magazine, and beyond.
Ben's mission is to serve those who, like himself, desire to live life to the fullest, experience deep meaning, purpose, happiness, fulfillment, and connection, explore and enjoy every nook and cranny of God's great creation, and discover how to achieve full optimization of mind, body, and spirit with boundless energy.